[ad_1]
I am not a handyman. I don't know how to fix it. I consider myself to be a hard worker and can perform tasks with explicit direction, but so can a dog. When it comes to home repair projects, I don't have the skills to see a problem and know the steps to fix it. Ask me the difference between a bolt and a screw, and I'll have to google it. I'm never further from my element than when I walk around The Home Depot, looking for the most basic element of home maintenance.
"Um, can you tell me where the tools are (checks the shopping list)?" "
But a funny thing happened a few months ago: While filling up propane tanks at Lowe's, I accidentally took out a Lowe's credit card. It was one of those things where I thought the cashier was offering a rewards card and I only realized my mistake when she applied for my driver's license. At that point, we were too far into the transaction for me to back down. I took a few deep breaths and acted like a guy signing up for special purpose credit cards all the time.
"Looks like you have a credit limit of $ 13,000," the cashier said when finalizing the transaction. "It's the best you can get. I would be lying if I said that this comment did not fill me with newfound pride.
Is it too far-fetched, I wondered, for me to become a handyman man? My Tim "The Tool Man" Taylor growled "no" (which sounded a lot like "nooough?")
I went home and looked for startup projects that would justify getting into debt. Replace dripping kitchen faucet? Nope. Build a retaining wall to prevent our property from sliding into a canyon? Not likely.
Then I remembered the bridge. I could redo the bridge!
After years of relentless exposure to the sun, my patio had become the structural equivalent of a mummy: parched, chipped, withered. The shoddy paint that builders originally used – a cheesy barnyard red – had faded to pink. If you've ever had the desire to riddle your hands and feet with splinters, my patio was the place to be. A facelift was long overdue. In addition, the area was relatively small – about five by twelve feet. I figured if I got over my head it wouldn't take too much effort to swim.
There was a Dante's Inferno-esque quality to Lowe's when I went to get my supplies. Armed with the knowledge gained from many Youtube tutorials (my figurative guide, Virgil-esque in this endeavor), I could now appreciate – at least in a poetic sense – this circle of Hell.
I discovered that there are so many methods of removing paint from your patio, including pressure washing and chemical stripping. But I wanted to use an electric sander. Although I knew it would be a bit longer and more tedious than the other methods, the sanding was more noble and perhaps more manly.
Virility. If I were to sit down and really dig into my psyche – that is, really 'go there' – this could be the reason why I avoid house projects. It's easy (and correct!) To despise "manhood" as a harmful and outdated gender construct, but no matter how progressive my justifications are, I still feel the needles of these perceived inadequacies. Somewhere deep in my lizard brain, I want to feel useful, but in a glorified way, which is something that's hard for me to achieve while sitting in front of a screen. I mean, unless I'm watching reruns of "Home Improvement" on my computer.
I bought the DeWalt 1/4 Sheet Palm Sander and Corbet Australian Timber Oil dye. The color was "Mahogany Flame" which is impossible to tell without sounding like it reads eroticism. I bought brushes, ventilation masks, sponges and sandpaper, new work gloves and rollers. By using my new credit card I saved $ 7. Wow. I was practically making money on this project.
When I got home, I unpacked the palm sander. His weight felt good in my hand. For someone who doesn't regularly use power tools, the potential to physically alter something was profound.
I attached a sheet of sandpaper (100 grit, no) to it and tested it. The machine woke up, vibrating so fast my hand was like whoa. I squeezed it onto my bridge and felt the destructive power in my shoulder. I pushed harder. Fine dust has appeared around the periphery of the sander. I felt nasty glee as I scratched a layer of skin off my deck. Ha ha! How do you like it?
After five minutes, I hit stop. I lifted the sander to inspect my work, revealing an eight inch section of wood, bare and beautiful. My sandpaper had become smooth. I looked at my stash of sandpaper and the area of ​​the deck that remained to be sanded. It was going to be a job.
Within days, I meticulously sanded. The act took on a quality of wax on Zen wax. I started equating my progress to the satisfying act of erasing pixels in Photoshop, which manly men are supposed to think, right?
But on the third day, a heavy glass ashtray fell from the railing – rumbled with vibrations from the sander – and landed on my hand. Damn that Zen / enlightenment thing. I rented a professional grade belt sander and finished the rest of the job in 30 minutes.
Here, I thought, looking at the smooth new wood, using the divine vernacular for something I made possible. I, in fact, had become a god. A god of the bridge, god of the bridges.
The mahogany flame was as sensual as the name suggests. With my face close to the wood, I sniffed the intoxicating scent as I brushed; I'm sure the affection I felt for the stain was pride and not the literal toxic fumes I was inhaling.
Two layers later, the bridge looked like blood. A rich and deep red. It was beautiful.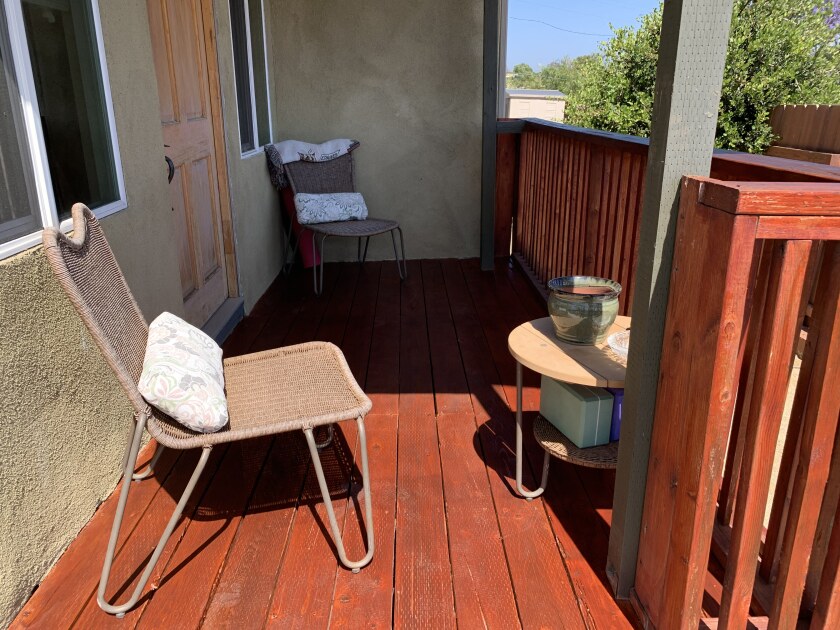 After I finished I realized the project didn't make me feel more manly than before I started – which was a stupid goal anyway – but it gave me a sense of ability that I didn't have. not known for a long time. I despised everything I had done and it was fine.
And the next day I had so much back pain that I just lay on the couch and watched horror movies for hours. This is certainly what all the gods do on their days of rest.
[ad_2]